Food in Federico Fellini's drawings
On demand bilingual digital exhibition (IT-EN/FR/ES/ZH) which can be customized to the requesting institutions, screenings, conferences.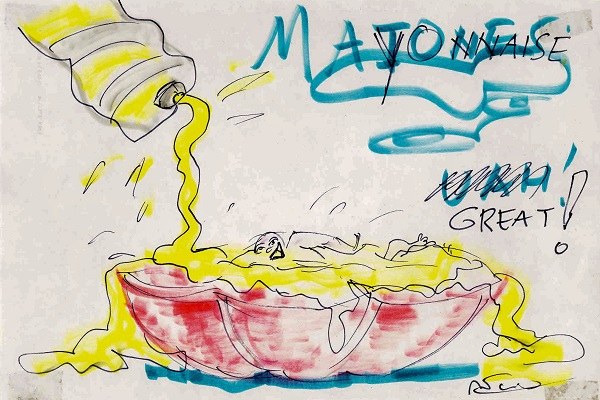 Federico Fellini made thousands of drawings, drawing was an almost maniac compulsion for him, he started doing it at the age of 15 and never stopped.
In 2013, on the occasion of the twentieth anniversary of the death of Fellini, the Department for Culture produced the bilingual digital display (ITA-EN/FR/ES/ZH) "Food in Federico Fellini's drawings", in collaboration with the Rimini City Council and Casa Artusi.
The exhibition is composed of 19 drawings made by the Maestro in different moments of his career, almost all splattered at the table –made on paper and on cloth napkins- and coming mostly from his "Libro dei sogni" (the Book of Dreams), a dreamlike journal kept for about thirty years, at present exhibited in the Rimini City Museum.
The display can be accompained with:
Long Journey, a very peculiar animated short film based on the Maestro's drawings curated by Andrej Khrzhanovskij in 1997 on screenplay by Tonino Guerra
the documentary by Giuseppe Ricci Food in the cinema by Fellini, a patchwork of scenes related to food taken from Fellini's films
conferences with Francesca Fabbri Fellini, with the screening of her documentary Fellini on my mind -an intimate and colloquial journey made with Fellini's longtime collaborators-, and the presentation of the book At table with Fellini. Oscar Recipes by His Sister Maddalena.
.