At table with Fellini
Book of " Oscar Recipes by his sister Maddalena", curated by Francesca Fabbri Fellini. RARE EARTH Publishing House, 2013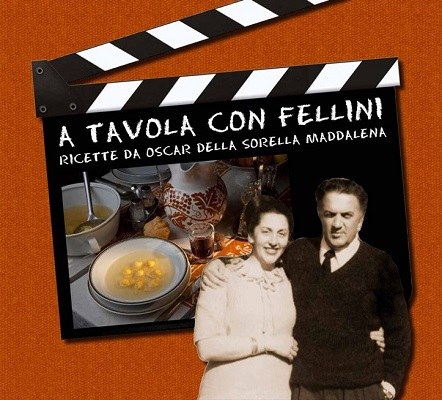 «Tell me what you eat and I'll tell you who you are.
I don't remember whose this 'appropriate' aphorism is, but I can easily 'self-certify' that I am a nice person thanks to my wonderful mummy Maddalena who made me grow to piadina, cappelletti and tagliatelle, all cooked according to the tradition of Romagna.
When I was young, she explained to me that Romagna is a smiling land, jovial even at table, with its peasant and seafood dishes, its cheerful and young wines.
My mother's dream was to open a restaurant with family recipes. A place of the Soul, as she called it. Unfortunately, it had been only a dream for her. But it's not certain that I won't do it....
Nine years after the death of the one who taught me love and respect for cultural traditions and food and wine, I decided to publish a second edition -revised and corrected, enriched with photos from the album of the Fellini Family-, of a volume that has found a great consensus from the 'Friends of the Good Table'.
Here you will find all the recipes Maddalena cooked for her Federicone.
We all know how important food is in Fellini's cinematic imagination: think of Boccaccio '70, Satyricon, Rome, Amarcord. In this volume, recipe by recipe, you will discover all the secrets of his cuisine: gestures, products, utensils, cooking, memories, customs, curiosities, small rituals. Each dish is photographed at every stage and you can be sure of the best result.
With this book, my mother wanted to pay homage to the simple joys of a genuine and homemade meal, full-bodied and lively, which has always rested on a long tradition and expresses like few others, love and respect for the earth that feeds it.»
Francesca Fabbri Fellini