Music and food: two great traditions of Emilia-Romagna
A book and an exhibition which can be customized to the requesting Institution, conferences, musical events, food tasting. On demand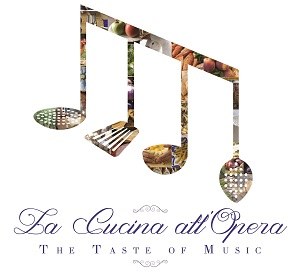 The book The Operatic Kitchen. Music and Food in Emilia-Romagna has been produced by the Department of Agriculture and by the Institute of Cultural heritage (IBC) of the Emilia-Romagna Region on the bicentenary of the birth of Giuseppe Verdi.
The author, Giancarlo Fre (1952-2013) – dead a short time before the printing of his work – was an architect and a lover of cooking, food and fine arts: appreciated for his articles and comments in the specialized press, he was well known as author of the blog "Il gastronomo educato" ("the polite gastronome").
The book tells about and criss-crosses the professional and private life of musicians, composers and performers, their best-loved recipes, their passion for this land rich of flavours and fragrances.
Starting from the ninth century, we meet the great protagonists of the golden age of Melodrama: Giuseppe Verdi, "the rustic man from Roncole", as he loved define himself, Gioachino Rossini, born in Pesaro but family friend of Lugo and Bologna, Pietro Mascagni, born in Livorno but linked with Romagna by a close bond of affection, Arturo Toscanini, the great Verdi interpreter born in Parma, just like his Maestro.
We travel then in the 17th and the 18th centuries, together with Girolamo Frescobaldi, born in Ferrara, and Arcangelo Corelli, born in Fusignano, Romagna.
The third part recalls passion and particular dislike for certain food of some great composers en route in Emilia-Romagna: Mozart, Wagner, Bellini and Puccini.
Finally, the twentieth century and two worldwide acclaimed as great performers, both good food lovers: Luciano Pavarotti and Maria Callas.
The exhibition The Taste of Music, handled by Isabella Fabbri and Margherita Spinazzola for IBC and the regional Departments for Culture and Agriculture, is based on the book but focuses on four protagonists -Verdi, Rossini, Mozart, Toscanini- and presents abstracts of the publication, new texts and unpublished pictures. 
This approach to the relationship between music and food has proved to be successful. The book and the related exhibition have been introduced in several venues around the world, in collaboration with the Diplomatic and Cultural Representations, by means of conferences held by the curators.
Besides the conference and the exhibition, musical events with arias of the Italian repertory or food tasting based on the recipes of the book can also be proposed.
The exibit is available in: Chinese, English, Italian. It is also available in a version for Arabian Countries.
The book is available in: English, Italian, Turkish.