Authors in the Kitchen
On demand bilingual exhibition (IT-EN) which can be customized to the requesting institutions, conferences, food tasting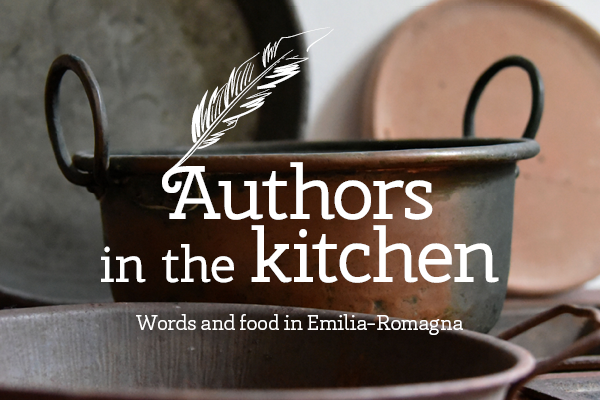 There is a strong and timeless relationship between literature and food. Since the banquets in Homer's poems, words have found their way into the kitchens and the dining rooms, lifting the lids and recording stories and recipes, menus and memories, tastes and habits.
This is a natural process: food is life, personal and social history, as well as geography, tradition, invention, and culture. As we look for its meaning in the works of some important Italian authors, we are not peeking through the keyhole but investigating an aspect that can shed light on their works and times.
What a better place to do that than in Emilia-Romagna, where the food and agricultural industry is considered one of the strongest assets, contributing to economy, tourism and quality of life? It is not by chance that Pellegrino Artusi, the best-known author of a cookery book aimed at Italian families, was born in Romagna, a land of rich passions and flavours.
From Ludovico Ariosto to Cesare Zavattini, we are invited for dinner by our authors, and we learn that Ariosto's comedies introduced the sumptuous Renaissance banquets of the Estes in Ferrara, that Cesare Zavattini was just as multifaceted and reliable in the kitchen as in other aspects of his life to the point of dictating a kind of eating-well code to his restaurant owner friends.
Moreover, in the intriguing relationship between Peppone and Don Camillo, the characters invented by Giovannino Guareschi, food is the turning point and the peacemaker. In Pennabilli, Tonino Guerra created the Orto dei Frutti Dimenticati, the orchard of forgotten fruit, in memory of the tastes and flavours of his childhood. Giovanni Pascoli poetically rendered the piada, as large, round and white as the moon. Even Giacomo Leopardi, born in the Marches but living in Bologna for slightly over a year, returned to his native Recanati cherishing the memory –hopefully a long-lasting one, of a special cake.
The exhibit is based on the book La cucina degli scrittori. Letteratura e cibo in Emilia-Romagna, curated by Alberto Calciolari, Isabella Fabbri, Luciana Finessi, realized by the Institute of Cultural Heritage (IBC) and the Department for Agricolture of Emilia-Romagna Region in 2019.
The exhibit is curated by Alberto Calciolari, Isabella Fabbri, Margherita Spinazzola.


The exhibit can be presented together with:
conferences by the curators;
food tasting based on the recipes of the book.