Taiwan - "Food in Federico Fellini's drawings"
From May 15th to June 30th, the exhibit is presented (online) within the TIBE - Taipei International Books Exhibition
On the occasion of the centenary of the birth of Federico Fellini, the Taipei International Books Exhibition (TIBE) celebrates the great director with the exhibition Food in Federico Fellini's drawings.
The TIBE – the most important publishing fair in the 'Greater China' area, should have taken place in February but due to the Coronavirus emergency was gradually postponed, until the decision to make it online.
The exhibition Food in Federico Fellini's drawings is realized in collaboration with the Department for Culture of Emilia-Romagna Region, the Italian Office of Economic, Commercial and Cultural Promotion in Taipei, LDC Hotels, and StMicroelectronic, beside the TIBE itself.
On display, 19 drawings made by the ingenious Maestro in different moments of his career, and testify the versatility of his powerful imagination and creative talent. They are almost all sketched at the table –made on paper and on cloth napkins, and come partly from his Libro dei sogni (The Book of Dreams), the dreamlike journal kept for about thirty years.
The exhibit can be virtually visited on the TIBE website, which also offers Fellini 100 immortal genius, the exhibition at Castel Sismondo in Rimini which inaugurated the initiatives dedicated worldwide to a unique artist.
The exhibit, which is included in the calendar of events Italy in Taiwan 2020, is part of the official programme of the Italian National Committee for the Celebration of the Centenary of Fellini's birth - 'Fellini 100'.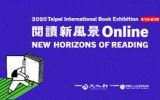 TIBE - Taipei International Books Exhibition

Italian Office of Economic, Commercial and Cultural Promotion in Taipei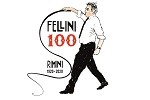 Fellini 100