Ravenna Festival for Estate all'italiana Festival
On July, 18 the show "Duets and solos" live stream on italiafestival.tv
#ESTATEALLITALIANA is the project curated by the ItaliaFestival Association promoted by the Ministry of Foreign Affairs and its network of Embassies, Consulates and Italian Cultural Institutes to offer the international audience the best Italian art live.
The programme presents 21 events of 11 Italian festivals in over two months of high-quality shows, available online –live stream and on-demand– for free on italiafestival.tv.
On Saturday 18 July, at 09:30 p.m., the show Duets and solo is scheduled, live streaming from Ravenna Festival.
In this special event curated by Daniele Cipriani, ballet étoiles dance on the music by great composers performed by two prominent artists, Beatrice Rano (piano) and Mario Brunello (cello).
Safety will be granted, since the programme features intimate solos and pas-de deux to be performed by real-life partners, who can get close without violating social distancing requirements: Silvia Azzoni and Alexander Ryabko, from Hamburg Ballet, and Iana Salenko and Marian Walter, from Staatsballett Berlin, while Serge Bernal, former Spanish National Ballet, and Matteo Miccini, from Stuttgart Ballet, alternate on stage and close the programme dancing together but at a distance.
Ravenna Festival has shared with Estate all'Italiana festival the opening concert, conducted by Riccardo Muti on June, 21, opening event both of the 'real' Festival in Ravenna and the 'virtual' one on the web.
The next appointment with Ravenna Festival on italiafestival.tv will be on July, 30, still at 09:30 p.m., with the concert of sacred music O oriens - La fonte musica, performed in the Basilica di San Vitale.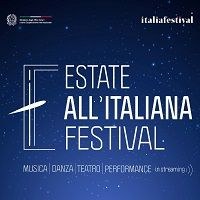 italiafestival.tv