Canada - "Skyscraper Cinema" by Marco Bertozzi
The documentary is presented at the ICFF - Italian Contemporary Film Festival and in the frame of Fare Cinema 2019. In Montréal, on June 18th
The humanity and the landscape of the Rimini Skyscraper are examined in the first person by one of its residents (the author of the documentary, Marco Bertozzi), in an open dialogue with the skyscraper itself (whose voice is performed by writer Ermanno Cavazzoni).
The skyscraper -100 metres tall- was inaugurated in 1959 as "an icon of a small town that was being transformed into a beachfront metropolis", Bertozzi says in his direction notes. And today, what is it?  «Two hundred homes, one on top of the other, all so close... A secret grid of aggregations, resettlements, intermingling, which symbolizes the ancient human desire of recreating a space of life. A melting pot of languages, reminiscent of the Babel experience, for its promise of coexistence and respect, of understanding and tolerance. Living there, I realized how much richness and how many problems it kept».
Bertozzi moved into one of the flats of the Rimini's skyscraper in 2005 and began to film some of the spaces and people surrounding him. The collected material, shot in many different formats, narrates not only the story of a building but also the story of a singular town as Rimini, and let us reflect on our mutable ways of living.
On June 18th, Skyscraper Cinema, awarded with prizes and special mentions, is presented in Montréal at the ICFF - Italian Contemporary Film Festival and in the frame of the events organized by the Italian Cultural Institute for Fare Cinema 2019.
Director Marco Bertozzi will attend and introduce the documentary.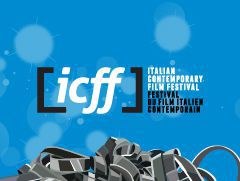 ICFF - Italian Contemporary Film Festival
Marco Bertozzi official site