Illustrators for Gianni Rodari. Italian Excellence
Bilingual (IT-EN) digital exhibition which can be customized to the requesting institutions, artistic workshops, creative workshops for all ages. On demand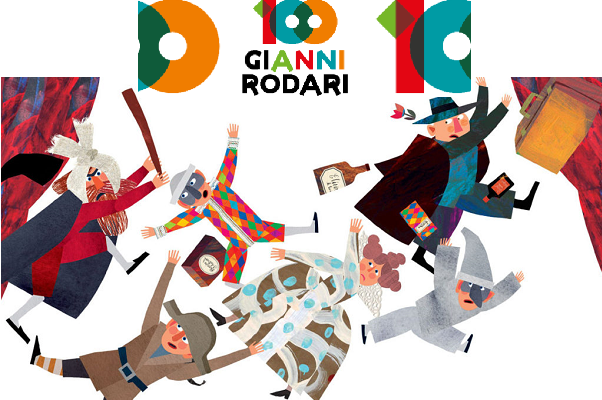 The year 2020 marks the centenary of the birth of Gianni Rodari (October 23, 1920), one of the most famous children's authors worldwide and unanimously considered among the most innovative.
Fairy-tales, nursery-rhymes, poems, short stories, and novels compose his wide artistic production, besides his fundamental essay translated in many countries The Grammar of Fantasy, a milestone in pedagogical-literary culture, born working with children.
Bologna Children's Book Fair and Emilia-Romagna Region celebrate this anniversary with the exhibition Illustrators for Gianni Rodari. Italian Excellence.
Re-printed year after year, Rodari's works continue to be re-interpreted by great illustrators.
Following this trend, and in coherence with the exhibit Illustration for Youth: Italian Excellence, first staged in 2015 and presented in more than 10 countries to great acclaim, a new edition is presented with the works by Italian illustrators who have interpreted Rodari.
Illustrators for Gianni Rodari is curated by the Cooperative Giannino Stoppani/Accademia Drosselmeier and presents works by twenty-one Italian illustrators. Each illustrator is represented by three works.
Ranging from historic figures and famous contemporary artists to the younger generation, they are:
Bruno Munari  |  Emanuele Luzzati  |  Altan
Beatrice Alemagna  |  Gaia Stella  |  Olimpia Zagnoli
Manuel Fior  |  Alessandro Sanna  |  Valerio Vitali
Simona Mulazzani  |  Chiara Armellini  |  Anna Laura Cantone
Fulvio Testa  |  Maria Chiara Di Giorgio  |  Giulia Orecchia
Nicoletta Costa  |  Federico Maggioni  |  Francesca Ghermandi
Pia Valentinis  |  Vittoria Facchini  |  Elenia Beretta 
The works are included in the catalogue published by Einaudi Ragazzi, holder of the world rights for Rodari's writings.
The exhibit can be accompanied with creative workshops for all ages held by one of the illustrators on display or artistic workshops with Italians illustrators and illustrators from the host Country.