Illustration for Youth: Italian Excellence
Exhibition which can be customized to the requesting institutions, artistic workshops, creative workshops for all ages. On demand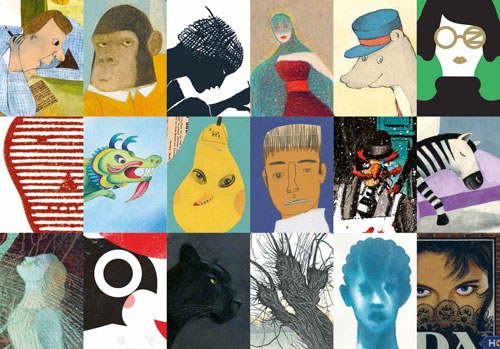 Since many years children's book has been an important part of Italian publishing trade and Bologna Children's Book Fair is its prestigious international showcase.
In this kind of publishing illustrations are essential and necessary to tell stories, to state a poetics that is sign and content together. These artists are able to create amazement and to modify our view, turning seeing into looking at. They are contemporary artists, who decline illustration as a complex language, as the result of a research that makes the world of arts meet the rhythm of narration.
The exhibition presents a rich selection of more than 60 works by 18 Italian illustrators documenting the artistic career of famous and nowadays young talents, two generations of artists who have created a new tune of illustrated albums for youth, raising worldwide the high quality of Italian illustration thanks to their vibrant expressing richness.
The artists on display:
Beatrice Alemagna, Anna e Elena Balbusso, Chiara Carrer, Mara Cerri, Sara Fanelli, Philip Giordano, Roberto Innocenti, Federico Maggioni, Giovanni Manna, Lorenzo Mattotti, Simona Mulazzani, Fabian Negrin, Simone Rea, Sergio Ruzzier, Alessandro Sanna, Guido Scarabbottolo, Pia Valentinis, Olimpia Zagnoli.
The exhibition has been produced thanks to the collaboration of Bologna Children's Book Fair, Emilia-Romagna Region Culture Dept., Italian Cultural Institutes.
The exhibit can be accompanied with creative workshops for all ages held by one of the illustrators on display or artistic workshops with Italians illustrators and illustrators from the host Country.