Guglielmo Marconi Wireless Pioneer
Documentary and on demand digital exhibition which can be customized to the requesting institutions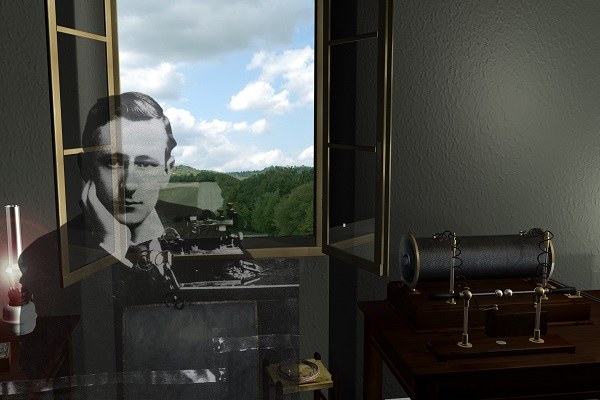 Guglielmo Marconi was the pioneer of that peaceful revolution of wireless communications that has radically changed contemporary society.
His system of wireless telegraphy -experimented in 1895 in Villa Griffone, his father's home in Pontecchio Marconi-, marked the beginning of Radio Communications.
Marconi dedicated all his life to develop his invention and even when the pioneering phase of radio communications ended, Marconi kept his leading role in the development of telecommunications and became their living symbol.
His extraordinary career lasted 40 years. Guglielmo Marconi received numerous international honors and awards -16 Honoris Causa degrees, to name a few. Amongst them, the most important is Nobel Prize for Physics that he shared with Karl Ferdinand Braun in 1909.
When he died in 1937, the world commemorated him with an exceptional event: all radio stations observed a 2-minute silence.
The exhibition "Guglielmo Marconi Wireless Pioneer and 1909 Nobel Prize Laureate in Physics" narrates the scientist's extraordinary path, from the first experiments to broadcasting, to the Nobel Prize and his scientific legacy.
The documentary by Enza Negroni "The wireless pioneer. Guglielmo Marconi 1874-1937" tells the story of the great inventor staring from the turn-of-the-century Bologna and shows a different, unknown and more human Marconi.
The exhibition and the documentary were produced by Emilia-Romagna Region with the collaboration of Guglielmo Marconi Foundation, the National Committee for the Marconi Nobel Prize Centenary, the Municipality of Bologna and the University of Bologna on the occasion of the centenary of the Nobel Prize for Physics awarded to Guglielmo Marconi.