Federico Fellini's 8 ½ in the unpublished photographs by Paul Ronald
On demand bilingual (IT-EL/ EN/ FR/ TR) digital exhibition which can be customized to the requesting institutions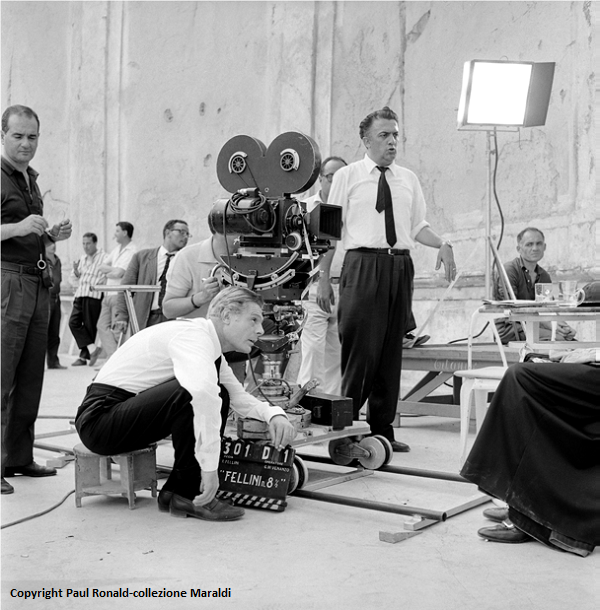 Paul Ronald presented Antonio Maraldi, the director of the Centro Cinema Città di Cesena, with more than 2.200 negatives and 250 color photographic slides, a great part of the work done on the set of Fellini's 8 ½, of which he was the official still photographer.
From this great amount of material, the exhibition Federico Fellini's 8 ½ in the unpublished photographs by Paul Ronald came out.
It is divided into six themes:
1) Federico Fellini
Fellini as main subject, alone or in company;
2) Marcello Mastroianni
portraits of the protagonist of the film, on the set and/or in pause;
3) The film set
busy scenes and with many characters;
4) Federico & Marcello
the director and the main character taken while silent and next to each other or while chatting nicely;
5) Color albums
color portraits of the different actresses engaged in the film-making, plus a couple of wonderful portraits of Mastroianni;
6) The film crew, guests, and extras
members of the crew with or without Fellini, guests visiting the film set, extras and extras troupe.
The exhibit is coupled with a catalogue edited by Società Editrice "Il Ponte Vecchio" of Cesena, that besides the images includes various testimonies by Paul Ronald.

The exhibition is composed of 50 images, but it may be expanded to a double quantity or more.
Each single section may be expanded, too.
Moreover, two further sections could be added:
- Scenes, to trace down the story of the film;
- Locations, to show the different environments.
Exhibition curated by Antonio Maraldi. All photographs owned by Antonio Maraldi.
© photo Paul Ronald-Collezione Maraldi