Greece – 'Fellini Special' at the Italian Online Summer Fest
Until September 17, screenings and the exhibits by Emilia-Romagna Region
Italian Online Summer Fest is a festival of virtual events dedicated to the 'Made in Italy' realized by the Embassy of Italy and the Italian Cultural Institute in Athens in the frame of the programme Tempo Forte Italia-Ελλαδα 2020.
Over eleven weeks, from July 3rd to September 17th, the Greek audience may join many initiatives ranging from music to cinema, from art to gastronomy, free available on a dedicated web portal.
Among the cultural proposals, great prominence to a 'Fellini Special', a tribute on the occasion of the centenary of his birth including the screening of two of his most famous movies and a series of exhibits dedicated to the director.
The scheduled films are great and multi-awarded masterpieces, considered among the greatest cinematographic works of all time: 8 ½ (two Academy Awards and seven Nastro d'argento, just to mention some of the many recognitions), and La dolce vita (Palma d'Or at the Cannes Film Festival, one Academy Award, three Nastro d'argento, and many others...).
The exhibits are three, and in particular the ones promoted by Emilia-Romagna Region, which are part of the official calendar of the Celebrations, and are gathering many acceptances abroad, where, from January to date, they have been already presented with different formats and settings, virtual or no, in twenty Countries, from the United States to Central America, from Asia to Europe.
They are:
Food in Federico Fellini's drawings, realized in collaboration with the Rimini City Council and Casa Artusi, displaying drawings made by the Maestro in different moments of his career, almost all splattered at the table and partly coming from his Book of Dreams;


Federico Fellini's 8 ½ in the unpublished photographs by Paul Ronald, realized by Antonio Maraldi, responsible for the Centro Cinema Città di Cesena, presenting the images remained unpublished for decades taken on the set by the official still photographer of the film;


At table with Fellini, remembering Artusi, realized in co-operation with the Centro Cinema Città di Cesena, with images of films by the Maestro representing culinary and convivial scenes, an exhibit which joins in the savoury pair cinema and food the anniversaries of two distinguished persons from Romagna: Federico Fellini (centenary of the birth) and Pellegrino Artusi (bicentenary of the birth).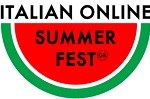 Italian Online Summer Fest
Italian Cultural Institute in Athens