Brazil - Celebrating Fellini with the Centro Cinema Cesena
Two important exhibitions are on display at the MAM Rio - Museu de Arte Moderna do Rio de Janeiro
Paul Ronald presented Antonio Maraldi, responsible for the Centro Cinema Città di Cesena, with more than 2.200 negatives and 250 colour photographic slides, a great part of the work done on the set of Fellini's 8 ½, of which he was the official still photographer.
From this great amount of material, remained unpublished for decades, an exhibition curated by Maraldi himself came out, that narrates with wonderful images the set, the director and the protagonist Marcello Mastroianni at work or in pause, the actresses engaged in the film, the crew, the guests visiting the film set, the extras and extras troupe.
The exhibition is presented at the MAM Rio in a very peculiar and dynamic setting proposed by the Brazilian curator, director of the MAM Rio Cinemateca Hernani Heffner, who wanted to entitle it O cérebro (e a caminhada) de Guido Anselmi [Guido Anselmi's brain (and walk)]. Running from January, the exhibit closes on March 15th.
Still at the MAM Rio, which dedicated to Federico Fellini celebrations also the series O Mestre de Rimini, an "uncommon" path through the director's filmography, a second exhibit by the Centro Cinema Cesena is running from February to March 15th: Rostos Fellinianos – Pérolas da Coleção Maraldi (Fellinian Faces – Pearls from the Maraldi's collection), also curated by Heffner.
Chosen from the Maraldi's collection of the photographs taken by Paul Ronald on the set of Fellini's 8 ½, the exhibit puts on display B/W and colour portraits ranging from the protagonist Marcello Mastroianni and the women closest to him (Anouk Aimée, Sandra Milo, Rossella Falk) to the many characters met between the spa and his memories.
The exhibitions are part of the official programme of the Italian National Committee for the Celebration of the Centenary of Fellini's birth - 'Fellini 100'.
They are promoted by the Centro Cinema Città di Cesena and the Office for cultural activities abroad of Emilia-Romagna Region, and realized by Cinemateca and MAM Rio - Museu de Arte Moderna do Rio de Janeiro, Secretaria Especial da Cultura in co-operation with the Italian Cultural Institute and the Consulate General of Italy in Rio de Janeiro.
MAM Rio - Museu de Arte Moderna do Rio de Janeiro
Italian Cultural Institute in Rio de Janeiro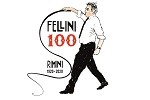 Fellini 100