Accademia Bizantina for Estate all'italiana Festival
On August 20, live stream on italiafestival.tv, "L'Orfeo" by Monteverdi, Spoleto Festival of 2Worlds opening event
Accademia Bizantina, the ensamble based in Ravenna specialized in the rediscovery and performance of Baroque music, opens the 63rd edition of Spoleto Festival of 2Worlds. On August 20, in the area in front of the Spoleto Cathedral, the Festival proposes a new production of L'Orfeo by Claudio Monteverdi, opera in semi-staged version with direction, settings and costumes curated by Pier Luigi Pizzi.
Considered the first accomplished expression of melodrama, an attempt to bring together and merge different forms of representation, Monteverdi's Orfeo was chosen to open the Festival not only because after more than four centuries, this work is still a reference point in this musical genre, but also for the symbolic value of the themes it deals with, of indisputable relevance even nowadays.
"The fable of Orpheus, as told by Poliziano, touches universal themes, gifted by Monteverdi of an inner musical unity", says Pizzi. "It soars through death so swiftly that one does not have the time to actually perceive it - from absolute happiness to the excruciating pain of detachment and loneliness, the morality being that every hard test can only make us stronger. This is what we have just experienced and has severely affected and marked so much of humanity. We shall relive this dramatic experience through theatre, trying to understand its mystery and collect a teaching that may make us better".
Ottavio Dantone conducts Accademia Bizantina in respect of Monteverdi's musical texture and in perfect union with the dramaturgy. Antonio Greco conducts the Costanzo Porta Choir, the light design is by Massimo Gasparon and the choreography by Gino Potente. On stage, a cast of young and talented singers and dancers.
Spoleto Festival of 2Worlds shares #ESTATEALLITALIANA, the project curated by the ItaliaFestival Association and promoted by the Italian Ministry of Foreign Affairs and its network of Embassies, Consulates and Italian Cultural Institutes.
The opera is live stream on www.italiafestival.tv on August 20, at 09:00 p.m., then available on demand for 48 hours.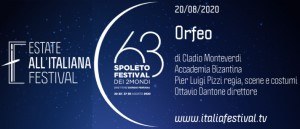 italiafestival.tv