France - Accademia Bizantina at the Beaune International Baroque Music Festival
Opening concert on July 5th and performance of Händel's 'Serse' on July 19th
The 37th edition of the Beaune International Baroque Music Festival opens on July 5th and Accademia Bizantina is the protagonist ensamble: countertenor Andreas Scholl and marvelous Norwegian soprano Mari Eriksmoen will perform Pergolesi's Stabat Mater, accompanied by the Ensamble from Ravenna under the conduction by first violin Alessandro Tampieri.
The recital Amor sacro e amor profano -proposing also arias by Händel and Vivaldi- take place in the Notre-Dame Basilica, one of the most beautiful churches in the region, dominated by the Romanesque style.
Händel again in the second performance by Accadenia Bizantina in Baume, on July 19th: Serse, one of the three new great lyric productions of this edition of the Festival.
Composed in 1783, the opera opens with Ombra mai fu, one of the most famous arias by the composer. Ottavio Dantone will conduct Accademia Bizantina performing the opera in concert form.
Händel's Serse, an opera not very often performed in Italy, was programmed in Emilia-Romagna last spring in a new production by the opera theatres of Reggio Emilia, Modena, Piacenza, Ravenna. The «elegance of the musical interpretation» by Ottavio Dantone has been very appreciate.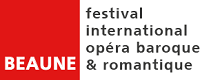 Beaune International Baroque Music Festival