Instabili Vaganti theatre company on tour in Chile
On June 17-25 in Valparaíso and at the FINTDAZ festival, the show "Lockdown Memory" and new "beyond borders" activities
The international tour of Instabili Vaganti theatre company's new work Lockdown Memory – on the experiences lived by artists from all over the world during the pandemic, is going on.
After the United States, where the English version was successfully introduced in New York (at La MaMa) and in Washington DC (within CrossCurrent Festival), the performance arrives in Chile and will debut in the Spanish version, thanks to the translation curated by Catalan playwright Jordi Perez.
The premiere is on June 17, at the Sala de Arte Escénico de la Universidad de Playa Ancha in Valparaíso (7 pm).
In the following days, Lockdown Memory is guest of FINTDAZ, theatre and dance international festival taking place in several cities of the Tarapacá region, and will be staged in Pozo Almonte on June 22 (Centro de las arts Escenicas, 8 pm), in Alto Hospicio on June 23 (Centro Cultural, 8 pm), in Pica on June 24 (Salòn Municipal O'Higgins, 8 pm).
The show – which is born within the 'Beyond Borders' international project, that explores the concept of border meant as an opportunity for meeting and sharing and involves artists from all over the world through a remote collaboration – has already been defined by critics as "a performance of extreme ideological and ideal power".
Textual and visual notes, physical and musical scores, Zoom conversations, and scenes from the performers' daily life let us relive the different moments and situations caused by the lockdown and give voice to the delicate social situation of the countries of the artists involved. Anna Dora Dorno and Nicola Pianzola are the actors on stage, actors and dancers from South Korea, Brazil, India, Sweden, United States, Columbia, Mexico, Pakistan, China, and Iran are the co-protagonist actors performing in video.
Instabili Vanganti's tour in Chile is supported by the Italian Ministry of Culture and the Italian Cultural Institute in Santiago and includes other activities connected to the 'Beyond Borders' project.
In Valparaíso, at the Universidad de Playa Ancha, the workshop Dante sin fronteras, directed by Anna Dora Dorno, Nicola Pianzola, and Chilean actor Claudio Santana Bòrquez, founder of the Performer Persona Project company and partner of the VIDEODANTE#Chile web performance series – another 'path' of Beyond Borders (June 18).
In Iquique, within the FINTDAZ festival, Anna Dora Dorno is guest of the "5° Encuentro de Programadores", a meeting attended by festivals and theatre seasons professionals from Chile, Bolivia and the Dominican Republic (June 20-21).
Lockdown Memory
workshop Dante sin fronteras
Sala de Arte Escénico della Universidad de Playa Ancha
Festival Internacional de Teatro y Danza FINTDAZ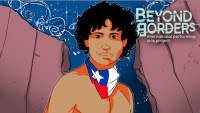 Compagnia teatrale Instabili Vaganti